Right click on the link
  "Download" and select
  [Save Target As] from
  the pop-up menu to
  save the file onto
  your hard drive.

 To watch the messages
  you will need to
 download RealPlayer.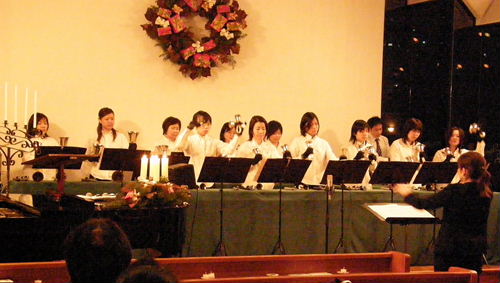 ---

Mitaki Handbell Choir

  13 people of the member of society and student . The activity that
began with the service of a church 1990, opens to a consolation performance to a concert (a periodical concert), culture event   participation, an institution / a hospital / the prison on Christmas.
 
 From a big bell of 4 kilos in weight to pretty Bell of 200g
the number what and 100 (five octaves of the hand bell and
3 octaves of the tone chime ).

The splendid how to play and the clear tone get support
from the wide age group in Hiroshima.


---